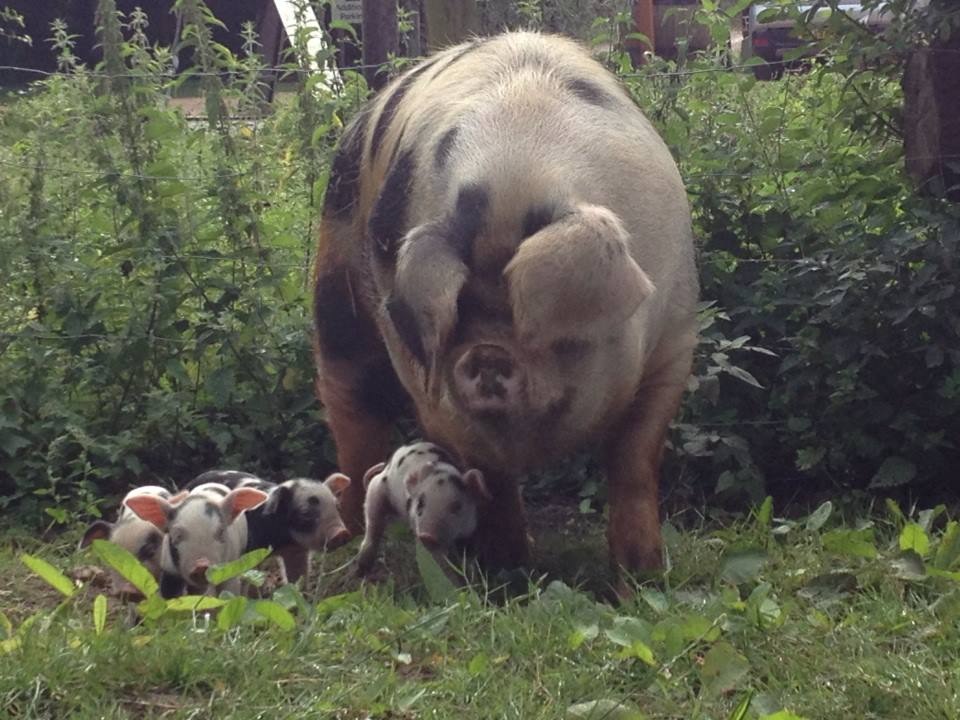 In August 2013 my father, Barry, was busy watching his beloved Gilt Gertie more and more and for longer than normal. Gertie was expecting any day and as a novice pig farmer Barry was pacing the field like it was a hospital corridor. Thankfully, his worry was uncalled-for as we were all delighted when she farrowed a litter of ten handsome piglets all on her own.
Inquisitive, they were out, running around and exploring their large meadow the day they were born. They were all doing extremely well, were playful and friendly and attracted large audiences in our pretty little New Forest village.
The pannage season was upon us in mid-October and since Barry had full commoners rights, he marched them out to the forest as soon as he could. Needless to say they had a blast. A whole forest to play with and plenty of friendly walkers and cyclists to nuzzle up to for a belly rub and a scratch!
An exceptional year for acorns, beechmast and even fungi meant their diet was organic, rich, nutty and full of natural oils, supplemented of course with the odd scoop of apple pulp from the cider pressing we were doing at the time. Their winter coats became glossy and they were soon fattening up nicely.
For the last three weeks, with pannage season over, they were back in their pen but now bemused by their sudden diminished space to play.
We felt it was time to separate off our Gertie along with one of the females, whom my brother John decided to keep and has named Zizzi. Barry promptly organised the services of Laverstoke Park Farm, a well renowned local abattoir who with pride reduce stress on the animals and ensure a clean and humane environment.
With nine pigs, our freezer was just not big enough to consider keeping them all and besides we'd love as many people as possible to taste and enjoy this premium meat. I'm so pleased to be able to tell you all that now you can!
You'll be able to sample our English acorn-fed pork from next week in our very own Cider Pantry in Burley, The Larder House in Southbourne, The Magdalen restaurant in London and the Banana Store in London. Alternatively, you can buy cuts of meat this week from Sillfield Farm Butchers in Borough Market, London, or, The Butchery in Bermondsey, London.
The last six months have without a doubt been a learning curve for our family. We've all enjoyed the experience of rearing pigs on the farm, with the added benefit of turning out on the forest, which is unique to the New Forest.
Such a friendly animal, they have given us hours of pleasure and entertainment. I'm so pleased to have observed such healthy and happy pigs in their natural environment, how I believe it really should be.
Mary Topp